ANNOUNCEMENTS
Women's Ministry Presents a Week of Prayer Lecture Series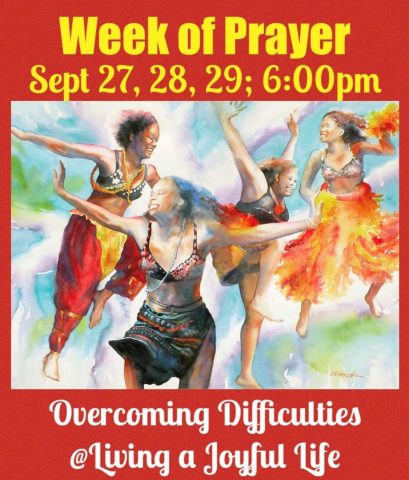 Overcoming difficulties and Living a Joyful LIfe
 Sept 27 -  6pm – Dr. Barbara Shabazz
Sept 28 - 6pm  - Symposium about prayer
Sept 29 - 6pm – Dr. Barbara Shabazz
Oct 1 – 11am – Dr. Sylvia Grove - during church worship service
Biographies of the Speakers click here
Church at Munden Point Park - October 15th at 10AM
The church building will be closed but come join us as we worship in nature. Address: 2001 Pefley Lane Virginia Beach 
Variety Show At Tidewater Adventist Academy - November 12 at 7PM- Eveyone is welcome.
Sponsored by Virginia Beach SDA Church and Redeeming Grace Fellowship.
Prayer Meeting:  Every Wednesday at 6:00 PM in the Fellowship Hall and via Zoom (Info on home page).  Please join us receive the blessing of this special time of prayer & praise.
Music Department:  If you are interested in sharing your musical talent, or have someone to recommend, please contact Bobby Dax Belleza at nextwave1@hotmail.com