ANNOUNCEMENTS
Jaime Jorge Live in Concert this Friday October 6th at 6pm. All are welcome and a Love offering will be collected.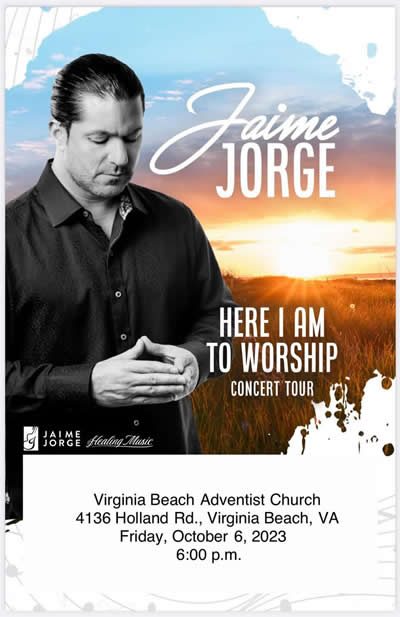 Revelation Seminar-
Wednesday Night Prayer Meeting- 6pm in the Fellowship Hall. Pastor Jorge will be guiding us through a wonderful study of Revelation. Come Join us. 
Music Department:  If you are interested in sharing your musical talent, or have someone to recommend, please contact Bobby Dax Belleza at nextwave1@hotmail.com 

October 6th - Jaime Jorge Violin Concert in the Sanctuary at 6:30pm. Invite
Your friends and family. A love offering will be collected. 
October 14th - Church at Munden Point - Info coming soon

October 7th - International Sabbath - Info coming soon.
Family Week of Prayer - Oct. 22nd & 23rd at 6:30pm. Oct. 24th Dinner at 6pm
with meeting at 7pm. October 25th-27th at 6:30pm and Oct 28th Church Service
Everyone is invited